Newsroom
Exclusive Interview with Carl. R. Darnall Army Medical Center's Chief of Behavioral Health, Sharette K. Gray, MD, LTC(P), MC
1/30/13 (Wed)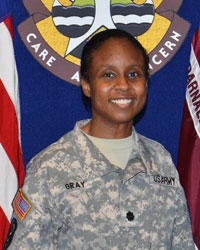 In an exclusive interview with the Chief of Behavioral Health at the Carl R. Darnall Army Medical Center (CRDAMC) at Fort Hood, Texas, LTC(P) Sharette K. Gray, M.D., MC, discusses the rewarding experiences of the day-to-day tasks in the Behavioral Health Department and some exciting upcoming initiatives.
Q: Tell us about your role at Carl R. Darnall Army Medical Center's Behavioral Health Department and walk us through a typical day.
A: In my role as Chief of the Behavioral Health Department and as a psychiatrist, I handle administrative and managerial tasks as well as see patients in the capacity of a psychiatrist (i.e. providing medication management and psychotherapy). The majority of my day is spent doing more of the administrative and managerial aspects, such as making sure the department runs well and that people have what they need as far as resources and making sure the environment is a place where people want to work. Above all, I make sure that we meet the mission of providing excellent behavioral health care to our beneficiaries.
I enjoy it immensely. It is exciting and challenging, and the people I work with are extraordinary. We have a superb team here.
Q: How many people make up your department?
A: We have approximately 270 people within the department and there are also behavioral health providers outside of the department, within the primary care setting. The behavioral health department is a very cohesive team. We can always count on people who are dedicated to do whatever is needed to take care of our beneficiaries.
Q: What is in the 2013 forecast for the Behavioral Health Department at CRDAMC?
A: We are looking forward to many exciting opportunities as we continue to implement key initiatives such as the Embedded Behavioral Health (EBH) model and our Child and Family Assistance Center. The EBH model revolutionizes Soldier behavioral health care by establishing dedicated behavioral health teams within a unit's footprint, resulting in improved access to care, decreased stigma and the strengthening of beneficial relationships between providers, Soldiers and their leaders. Similarly, the Child and Family Assistance Center provides comprehensive, evidence-based, integrated behavioral health prevention, evaluation and treatment services to our children and family members.
Q: How does the EBH Model work?
A: The Embedded Behavioral Health model establishes a close knit team of seven provider staff – including one psychiatrist or psychiatric nurse practitioner, three psychologists and three social workers – along with six administrative staff to provide both routine, clinical treatment as well as outreach treatment to a specific unit. The intimate nature of the EBH model allows for providers to get to know the soldiers and commanders in a non-clinical setting. This helps the EBH team gain insight as to what the providers need to work on with that specific unit and what kind of advice they can provide to commanders.
We have found that soldiers do extremely well with this type of embedded care. Having a designated team of providers in close proximity to the unit ensures continuity of care, allows for better access to care and decreases the stigma of behavioral health care. The soldiers know that their team is right there to support them and they form relationships and develop confidence in their team. The EBH team is small enough to become a cohesive unit and the providers enjoy the job satisfaction of being able to form relationships with the soldiers and see progress.
Q: In the event of deployment, would civilian EBH providers be required to stay with their unit?
A: No, civilian providers would not stay embedded to their unit in the event of deployment. Some military providers, however, will stay with the unit even through deployment.
Q: How many Embedded Behavioral Teams are set up at each facility?
A: The number of operational units and Soldiers assigned to a particular installation determines how many EBH teams that installation will require. Fort Hood currently has two operational EBH teams and a third staffed and expected to be operational by February 2013. Fort Hood is projected to ultimately require 11-12 EBH teams.
Q: How many behavioral health patients does CRDAMC typically see and do you expect that number to change throughout the year?
A: We are seeing 3,600 patient encounters per week throughout all of our behavioral health clinics. I predict that this Embedded Behavioral Health model – which takes a more preventative approach and endeavors to target and address behavioral health issues before they become chronic and severe – may impact that, however. The EBH model is really a very forward approach to provide the best BH care. With the EBH model, the providers are continually engaged with the unit they are supporting; they conduct 'walk-abouts' and by maintaining close contact and responding to both Soldiers' and commands' concerns, they help reduce stigma. So the providers are in tuned to what the problems are and they maintain close relationships with both the Soldiers and commands so that they can address issues before they become a severe or significant problem. I think what we will find is that by treating earlier and in a more preventative model, we may see a decreased need to acute treatment. The number of Soldiers who have deployed and have experienced psychological sequelae still remains high, but hopefully, with a more preventative approach, we can avert some issues and reduce the severity of others.
Q: How would you describe your personal experience as LTC(P) working alongside military personnel and civilian employees?
A: It is phenomenal because I am able to have so many different perspectives to learn from and to provide the best care possible. By having both military personnel and personnel from the civilian sector, we have a wealth of experiences to draw from to ensure we provide world-class care to our patients. We are exposed to new and different ways of looking at things that we might otherwise not be aware of if we had only military providers. It is a more exciting place to work because of the wealth of so many experiences and what everyone brings to the table.
Q: What is the Child and Family Assistance Center that you mentioned earlier?
A: The Child and Family Assistance Center is an initiative to strengthen our ability to provide comprehensive and collaborative services to our children and spouses. In addition to our efforts with EBH, over the next several years we will be hiring more adult and child psychologists, psychiatrists and social workers to work together in a very collaborative fashion to provide coordinated care to family members. It is our goal to make sure we have the resources to take care of military spouses and families, as well.
Q: LTC(P) Gray, thank you for your time and sharing the ins and outs of the behavioral health team at CRDAMC. Is there anything else you would like to mention about your work and the environment at CRDAMC?
A: I think one thing to note is that, contrary to what people may think, the city of Killeen is a great location. It is small enough to get to know people and feel like you are part of a community, but at the same time you are close enough to larger metropolitan areas, as well. We are only a two hour drive from Dallas, less than that to San Antonio, three hours from Houston and just an hour from Austin. Many people live in the Georgetown area which is nice because it is close to Austin and it is not a bad commute. Also, the cost of living is excellent and the area really has many unique, exciting things to offer.