Newsroom
U.S. Army Medicine Civilian Corps Attends the National Association of School Psychologists 2013 Annual Convention
2/11/13 (Mon)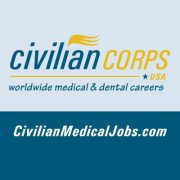 The Civilian Corps of the United States Army Medical Command (MEDCOM) travels to Seattle, Wash. Tuesday, Feb. 12, for the 2013 National Association of School Psychologists (NASP) Annual Convention. The NASP Annual Convention provides psychologists, employers and individuals interested in the field with an opportunity to learn from one another and available workshops as well as network with key participants. In addition to the workshops and networking, convention attendees may interact with Civilian Corps representatives and learn about the rewarding career opportunities for psychologists to serve as civilians, providing care to military personnel, beneficiaries and their families without military requirements.
"The NASP Annual Convention provides a great opportunity for Civilian Corps to connect with experts in the field and those interested in civilian career opportunities," says Dr. Joseph Harrison, Chief, Recruitment and Retention, Headquarters U.S. Army Medical Command, Civilian Human Resources Division. "Psychology is one of the most important fields within the Civilian Corps and specifically in the Embedded Behavioral Health (EBH) teams that are being implemented at medical treatment facilities nationwide. Civilian Corps is dedicated to staffing our hospitals and clinics with the most qualified psychologists to continue expanding behavioral health services to the military's almost four million beneficiaries."
The EBH model establishes an efficient provider-to-patient ratio embedded within each unit's footprints, ultimately decreasing stigma and allowing soldiers easier access to behavioral health care in a timely manner. By providing an adequate number of EBH teams, dependent on the number of units, the providers are able to treat patients with preventative care before behavioral health concerns become more of an issue. The EBH model also allows providers to get to know their patients on a more personal level, ultimately establishing a trusting relationship and a rewarding career.
The Army Medicine Civilian Corps provides exceptionally rewarding career opportunities for civilians to practice their medical specialty while serving those who serve their country. Civilian Corps employees are not subject to military requirements, such as enlistment or deployment, and receive excellent benefits, including flexible work schedules, tuition reimbursement and access to state-of-the-art training and equipment. Interested individuals may learn more about career opportunities at more than 70 army hospitals and clinics worldwide by visiting the Civilian Corps online at www.civilianmedicaljobs.com.